Wilsonville Used Cars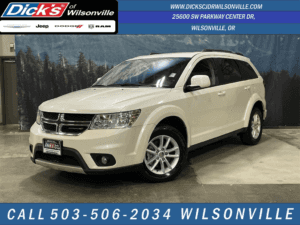 If you're like millions of other people, you're already thinking that a used vehicle might be a better option for you than a new model. Wilsonville used cars are more numerous and popular than new models right now, and there's a good reason for that. Dick's CJDR of Wilsonville is here to deliver Wilsonville used cars that are verified for quality and ready to start over with a new owner.
Used Cars for Sale
We've got a lineup that's ready to rev up your lifestyle for the next decade or more. Our used cars near me feature classic designs like the Chrysler 300, a model that's all the way class for any kind of buyer. We keep our used cars in terrific shape for our customers. Unlike other dealerships that just let their used inventory sit, we regularly maintain and detail our vehicles so they're in top shape at the time of purchase.
Used vehicles took on a superhero like status last year when new models started suffering from feature shortages. There's still a way to get a completely intact feature set on your next vehicle. Instead of footing the bill for an expensive new car, take a look at used models that still have their original powertrain and classiness. Even with the few extra miles on them, they're going to perfect wonderfully for you and keep your bank account much happier this year. Used vehicles are the one bright spot that came from the recent computer chip shortages. People realized that used actually means "useful."
Shop at Dick's CJDR of Wilsonville
Everyone is invited to visit us whenever they need used cars in Wilsonville. Our expert services include more than just used car sales, though. We take care of our customers!
Buy Online
Did you know that you can completely buy a vehicle online from us? It's a simple process that lets you pay entirely online and even get your vehicle delivered right to your driveway or garage. If you're short on time this year, use our online buying service.
Financial Services
Our compassionate expert finance team cares about each customer who seeks an auto loan for us. If you want to buy used cars near me, then choose a dealership that cares about what happens to you after you buy a vehicle. We want to make sure you get the kind of monthly payment and down payment that won't leave you hurting over the next few years. Our team is willing to negotiate to create something that helps you, too.
Auto Care
After you buy a used vehicle, you'll want to take advantage of our advanced auto service. We've got the right services for you. You'll have the benefit of expert oil changes, tune-ups, accessory installation, and tire rotations, all in a friendly environment around the people who knew your car before you even bought it. In your vehicle's later years, we'll keep it running smoothly with our expert repairs.
If you'd like to shop with us this year, just take a look at the many vehicles we have for sale. Order online or call us if you'd like to test drive any of our cars.