Used Jeep Dealer Near Me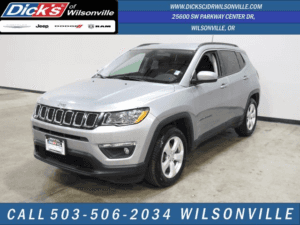 There's no feeling in the world quite like taking home Jeeps SUVs and trucks. These rugged survivors are built to last and withstand every type of weather and road obstacle. In fact, you don't have to stay on a road when you have a Jeep. These models are designed to travel the distance into faraway places. Unlike other road-only vehicles that focus on great handling in normal conditions, your used Jeep trucks and Jeeps SUVs are geared for the immortal trails of America.
Trail Rated Used Jeeps for Sale
Jeep makes very few models that aren't trail rated. If you see a Jeep model, there's likely at least one trail rated model in the bunch, and some models are trail rated across every trim released. The Jeep Wrangler is probably the most famous of Jeep's off-road creations, but there are also other models to choose from, such as the Renegade, Grand Cherokee, Cherokee, and Compass.
Jeep trucks like the Gladiator are also trail rated. You'll find the Gladiator available at our used Jeep dealer near me, and you'll even find a desert rated variant among them. Buying these models in their used form adds a mystique and character to the vehicle that wasn't there when it was brand new.
A Used Jeep is a Story
Every pre-owned model in this brand has seen more than its fair share of adventure, and it's ready to share that adventure with a new owner. Many people love to buy used because those models are just easier to customize than new models. After all, who wants to take a new model and immediately put a favorite set of wheels and accessories on it? With a used model, you're free to create.
Dick's CJDR of Wilsonville has a team of experienced sales professionals who want to share the story of used Jeeps for sale. A Grand Cherokee probably traveled the roads of America on its way to classy, upscale destinations. A Wrangler muscled its way through the trails to find a favorite unseen destination just off a favorite trail. And the Compass is a commuter with the ability to go off-script on the weekends.
When you shop at our used Jeep dealer near me, you'll find all of these models and more, including the trail rated Gladiator pickup. The 5-foot truck bed of most of your used Gladiator models will add still more room to bring your favorite toys along on an off-road adventure. Everyone is free to explore these models online, get free quotes, and even apply for financing. We always recommend getting pre-approved for any Jeep model before buying. It lets you know the budget you have to spend on your next Jeep model.
Contact Dick's CJDR of Wilsonville
Our sales and finance departments are here to work with you on your next Jeep buy. You'll find our pre-owned selection if full of all your favorite models at many different budgets. People with questions are welcome to give us a call or write to us for more info about any model you find in stock this year.