Used Cars Wilsonville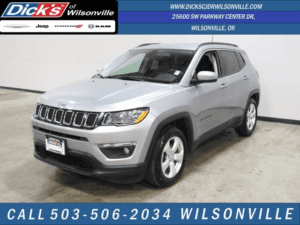 Dick's CJDR of Wilsonville has a whole new supply of used cars for sale this year. Our pre-owned vehicles are so useful to people on a budget that we've still got an under $10K section, something that's nearly impossible to find in the modern era. We know how to take older model vehicles and renovate them to relevancy again. They'll get back out there on the road with you and form a whole new legacy.
Used Cars in Wilsonville
A used car dealer is one of the most helpful places on earth for Americans right now. When you "just need a car," we've got them here at our Wilsonville car dealers-
Jeep Wrangler
Jeep Renegade
Jeep Gladiator
Dodge Durango
Chrysler 300
Ram 1500
Any variation of these used cars in Wilsonville will pep up anyone's year into a brighter day.
Shopping Used is Shopping Smart
Used cars for sale have a lower starting price and lower down payment than new vehicles. For example, most new buys require about 20% down at least, and that's a lot of money to pull from any bank account in this day and age. At our dealership, you can forego the painful down payment and score great deals and less money down.
Used vehicles don't suffer from a lack of quality, either. You'll have more models to choose from and more designs to select. If you don't like the newer designs, money may not even be the primary motivation for heading straight to a pre-owned or certified pre-owned section at our dealership. If you love having more to choose from and a broader variety of designs, the used section at Dick's CJDR of Wilsonville is an amazing place to be this year.
Spend Smarter and Stay Happier
A car purchase follows you over the next 6 or more years. Don't make the mistake of compulsively choosing your automobile and wading headfirst into a deal without really thinking about it. Our sales and finance departments work closely together with customers so that you make a well-planned buy instead of an impulsive one. When you test drive a vehicle before buying and hear all the specials available for that vehicle, you don't drive away feeling like you left something behind or took something undesirable home with you.
For those shopping used this year, just know you're making the smartest choice for you. It'll leave you a lot of room left over in your budget to take care of unexpected "life happened" moments. We recommend researching our inventory online before applying for auto loans and other forms of financing. We also have a great "Buy Online" feature that automates your purchase and helps you spend zero time at the dealership. We'll bring your vehicle directly to you after the purchase goes through.
Discuss a Used Vehicle
Free quotes and payment calculators are available on our pre-owned and certified pre-owned selection. For those with questions along the way, we're here to take care of you this year. Just write or call.