Transmission Repair near Wilsonville OR

Has your transmission been acting shifty during your drives around Wilsonville, Oregon, lately? The mechanics at the Dick's CJDR of Wilsonville (CDJR) service center are happy to check your vehicle's transmission for you.
Our experienced team is knowledgeable about transmission repair for all types of vehicle brands and models and can expertly resolve your issues. Read more about transmission repair below and find out when you should bring yours in for service.
---
What Is a Transmission?
Every vehicle is equipped with a transmission. This piece of equipment is responsible for directing the power generated by the engine to the wheels. It does this either through gears, a system of pulleys, or hydraulic pressure, depending on the exact type of transmission.
There are three basic types of transmissions:
Manual transmission
Automatic transmission
Continuously variable transmission (CVT)
Regardless of the type, your vehicle's transmission works to make sure enough power is sent to each wheel at any given speed.
With a manual transmission, you need to shift gears manually and know the speed range with which each gear is associated. Automatic and continuously variable transmissions, on the other hand, change gears automatically by sensing changes in speed and adjusting accordingly.
When Does a Transmission Need Repair?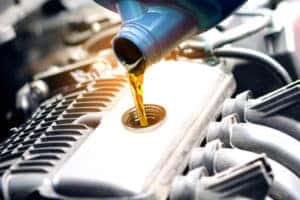 Transmissions don't break frequently. Unlike brake pads and spark plugs, transmissions don't even require part replacement or much maintenance work apart from changing the transmission fluid. However, the transmission can still experience wear and tear like any other vehicle component.
Excess wear from severe use is the primary culprit of broken transmissions. This level of wear can result from:
Shifting to brake at stoplights
Driving before the engine warms
Shifting gears while your vehicle is still moving
Attempting to get out of thick mud, snow, or sand when your vehicle isn't equipped for such terrain
Towing weights that are over the vehicle's limit
You may not cause too much damage to your transmission by doing any of these things once in a while, but consistent overuse will take its toll. Then, your transmission will begin displaying the following signs of damage:
New clunking, grinding, whining, or buzzing sounds
Delay in gear shifting
Burning smell
Vibrations or shaking in neutral
While all of these signs might get you on the phone with one of our transmission repair mechanics, a check engine light should be your clear indicator that it's time to schedule service.
Leave Your Vehicle in the Best Hands
Bring your vehicle into our service center when you notice a change in your transmission. Our factory-trained technicians will get to work figuring out the cause of your transmission issues.
You might just need a flush or fluid change. However, if you need a transmission replacement, you can rest assured that we will only use the highest quality parts that your manufacturer recommends.
---
Schedule a Transmission Repair Service in Wilsonville OR
Is your transmission due for service or in need of repair? Wilsonville, OR, drivers can stop by the Dick's CJDR of Wilsonville service center for all of their transmission repair needs.
When you're ready to schedule your service appointment, give us a call.