---
---
Are you in need of tire repair near Wilsonville, OR? You're not the only one! We often help local drivers with this kind of service at our dealership. In addition to tire repairs, we also perform tire replacements, tire rotations, and more.
If you're due for service, contact Wilsonville CDJR to schedule your visit to our state-of-the-art service department.
---
Wilsonville Drivers: Signs You Need Tire Repair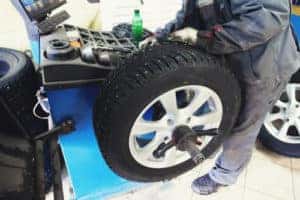 Usually, our Wilsonville area technicians will check your tire condition as part of a multi-point inspection during your 7,500-mile oil change. This puts expert eyes on your tires roughly twice per year, if not more depending on your vehicle use.
However, there are a few signs you should check for between services that indicate you're due, including:
Low tire tread
Sidewall cracks
Vibrations or pulsing on smooth roadways
Dashboard lights
We recommend checking your tires monthly for any sidewall cracks, which can indicate dry rot. Also perform the penny test during this check. Simply place a penny inside your tread with Lincoln's head facing down. If you can see his hair, your tire tread is too low. Schedule a tire replacement as soon as possible to ensure proper handling.
You should keep an eye on your dashboard, too. If you see a yellow light that looks like an exclamation mark inside a set of parentheses, this is your Tire Pressure Monitoring System (TPMS). Inflate your tires to the recommended PSI as soon as possible and check for any holes or nails in your tires.