Sell or Trade Your Car near Portland OR

Over time, you start to use your car more often, and you may come to a point where you think about getting something new. What do you do with your current vehicle?
There are a couple of possibilities, and we here at Dick's CJDR of Wilsonville (CDJR) are here to help you see the benefits of each. We can help you sell or trade your car near Portland, OR, and get the value you deserve. Learn more about this process in this article.
---
Sell or Trade: Which Method Should You Choose?
The decision to sell or trade your car can offer you a number of benefits. Your choice may be determined by the method that offers you the best possibilities.
There are a few things to consider as you decide whether to sell or trade your car. For example, do you need to get another car, or do you just want to have a vehicle off your hands?
Selling a vehicle can be the right choice if you don't have an immediate need for another vehicle. This allows you to get the value in return for your car and take those funds and use them to save for another car down the road or another important purchase you may have. If you decide to sell, it can be beneficial to also sell to a dealership. You don't need to have an immediate buyer lined up, and the dealership can help make the process easier.
If you are considering a trade, this is your chance to take the value of your current vehicle and apply it to a new vehicle. By doing this, you can reduce monthly payments and use the previous vehicle's value as your down payment. You may get more value if you choose to sell the vehicle, but by trading your vehicle, you could also get a more manageable financial plan.
Find the Value of Your Trade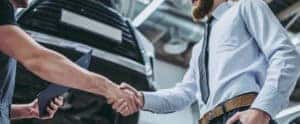 If you do decide to go with the trade-in route, how can you determine what your vehicle is worth? Doing some research before you start the process can go a long way. Before you go to a dealership, you can learn of your projected value for a trade-in and start to research for a new vehicle, too.
By using our online trade-in value tool, you can get information on what your potential value of a trade-in may be. After that, you can bring your vehicle to our dealership and work with our team to have it evaluated and get a formal value. Taking this step allows you to look for a new vehicle with a figure in mind for what you may receive in return for your trade-in, allowing you to budget for a new car.
This is only the beginning of the process. You can also speak with a member of our expert team to be advised on the next steps. This allows our dealership to be prepared with options that work for you and can save you time in your search, decision, and deal-making process.
---
Come To Our Dealership Today
Do you need to sell or trade your car near Portland, Oregon? Come to see us today at Dick's CJDR of Wilsonville and make it happen.
Our expert team is here to help you with this process, and we are happy to provide the resources necessary to make everything smoother. Visit our dealership today!