Ram Trucks For Sale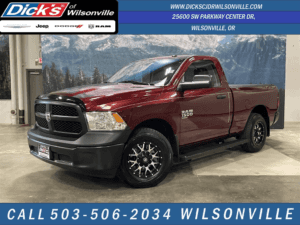 Ram's strong trucks are a superstar at our truck dealership. You can't help but admire these trucks for all they've done in America since they were first released. Ram trucks for sale help to tow farm equipment, campers, boats, and construction equipment for the roughest jobs or playtime in America. They're also confident off-roaders and always up for whatever your heart desires.
Trucks for Sale near Me
Ram trucks for sale are literally trucks made of steel. If you're someone who prefers a steel pickup truck, then a Ram truck dealer has just what you need this year. There are other reasons to choose Ram trucks this year, though, including the fact that they're widely regarded as the most luxurious trucks available in the modern world. New truck buyers are going to get the kind of features usually confined to sedans. It's a cab full of luxury that's moved by a frame made of steel.
Powerful V8 and Diesel Engines
Ram's light and heavy duty models both have V8s and diesels attached to them, so it's always a powerful and inspiring ride every day. You can count on a Ram truck to bring you the ultimate experience in off-roading, towing, and payload capacity. A Cummins turbo diesel is usually included in your model years as long as you're shopping within the last decade.
Tech Savvy Pickups
Technology wasn't always a part of trucks for sale near me. At one time, people thought trucks should be all vinyl and AM/FM radio. It was Ram that decided to convert their Ram 1500 into a near resort for their hardworking customers. You don't have to choose a luxury sedan this year to get a cabin that's equipped with a 12″ touchscreen infotainment system running on the Apple CarPlay and Android Auto platform. Ram hooks you up with some of the most advanced technology in the industry.
A Place for your Gear
The RamBox Cargo Management System is attached to the side of the truck where it's easier to access. Most pickups put their cargo boxes in the actual truck bed, a place that's extremely hard to reach. You'll save a ton of time by buying from a Ram truck dealer this year. Recent model years of the Ram 1500, 2500, and 3500 have LED RamBox cargo lighting and a full power outlet for all your camping or work needs.
Ram trucks are made of steel and come with some of the most luxurious interiors and powerful engines known to the industry. And they only get better as time goes by. Please check out our large lineup of new Ram trucks if you'd like to get something that's going to stomp out the competition this year. We'll get you a majorly good deal on a classic Ram truck.
Choose Dick's CJDR of Wilsonville
Are you ready to pick out a model from our Ram trucks for sale? Just let the team at our truck dealership know if they can be of help in any way at all. We're always here for our customers.