RAM OEM Parts near Wilsonville OR

---
When it comes to your Ram truck, you want to make sure you are getting the service it needs when it needs it the most. That means using authentic parts that are capable of helping your truck run the way you expect it to.
At Dick's CJDR of Wilsonville, you can find Ram OEM parts near Wilsonville, OR, and get your truck the service it needs.
In this article, we will look at what Ram OEM parts are, why you should use them, and how our dealership can help you get genuine parts for your truck.
Feel free to contact our parts department today if you have any questions.
What Are Ram OEM Parts?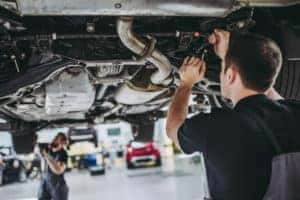 Before you can get the right parts for your vehicle, you probably want to know what Ram OEM parts are. OEM stands for original equipment manufacturer—meaning you get parts that are genuine to your vehicle.
The key difference between OEM parts and aftermarket parts is that what you are getting is authentic and a true fit for your vehicle. Aftermarket parts can be more of a one-size-fits-all option and possibly not the perfect fit for your vehicle. This can have an impact on its performance.
By choosing Ram OEM parts, you are getting parts that were made as part of the original equipment on Ram trucks. These will be a natural fit and help you to get the performance you expect from your vehicle.
Why You Should Choose Ram OEM Parts
The main reason you should choose Ram OEM parts is quality. This is the same part that was intended for your vehicle—the very part that it was built with originally.
By choosing OEM parts, you don't have to look at a variety of parts from different brands and guess which one is right for your vehicle. These parts are made to be the perfect fit and get your vehicle back to working like new again.
Let Our Team Help You
Another aspect of service goes beyond the parts. While getting OEM parts can be the solution for repairing your vehicle and getting back on the road at the speed and performance you expect, working with a team that can help you identify issues with your Ram truck and make repairs with ease is just as important.
By working with our team, you can get help identifying the OEM truck parts that you need. We can direct you to the right Ram OEM parts online. We can also help you with Ram OEM part specials that can get you a deal on the part you're looking for.
Then, our team will complete the service on your RAM truck quickly and efficiently, so you can go back to using it the way you want.
---
Visit Our Service Center Today
When you choose to use Ram OEM parts for any repairs your truck requires, you will notice the difference immediately when you get back on the road.
Bring your Ram truck to our team for the service and OEM parts that your vehicle needs.
Contact our parts department today at Dick's CJDR of Wilsonville and get the Ram OEM parts near Wilsonville, OR, that you need to take on the road and conquer your travels again.
Be sure to take advantage of our Mopar® parts and service coupons!