Ram 2500 vs Ford F-250

---
Which heavy-duty pickup truck is good enough to handle the toughest jobs in Wilsonville, Woodburn, and Portland, OR? If you're asking yourself this question, you've come to the right place. Dick's CJDR of Wilsonville is putting two top contenders head-to-head in this Ram 2500 vs. Ford F-250 comparison. Find out which one you'll want to test drive based on its strength, power, and high-tech options.
Gasoline-Fueled Power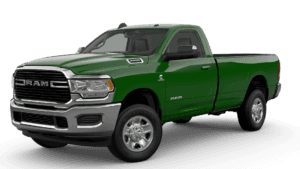 While both the Ram 2500 and the Ford F-250 offer diesel engine options, they come standard with powerful gas V8 engines. These engines offer plenty of power for most jobs, with the benefit of being able to fill your gas tank at any gas station.
The Ford F-250 comes with a 6.2L V8, which offers 385 horsepower and 430 lb-ft of torque. The 6.4L HEMI® V8 in the new Ram 2500 has practically the same amount of torque. But when it comes to overall power, the HEMI® wins by a landslide. It generates up to 410 horsepower, which is impressive for a gasoline-fueled engine.
And if you thought that was powerful, you'll discover even more power in the Ram 2500 that you never thought possible. With the available 6.7L Cummins® Turbo Diesel I6 engine equipped, the Ram 2500 can reach 370 horsepower and an unbelievable 850 lb-ft of torque.
When it's time to shift gears, the Ford F-250 does so smoothly with the help of a 6-speed automatic transmission. However, drivers might prefer the added gear ratios available in the Ram 2500, whose gas engine is paired with a fully electronic 8-speed automatic transmission.
Towing Capacity
Chances are, you're looking at heavy-duty trucks because you're looking to tow a heavy load. Again, the Ram 2500should be your go-to: Its diesel engine can tow up to 20,000 pounds when properly equipped. It also offers a maximum payload capacity of 4,010 pounds.
The Ford F-250 maximum conventional towing capacity can also reach 20,000 pounds with its diesel engine and when properly equipped.
---
Smart Towing Features
The Ram 2500 and the Ford F-250 can not only handle an unbelievable amount of weight, but they also make towing anything easier than ever before thanks to towing technology features. Both vehicles offer features such as Trailer Monitoring, which keeps tabs on anything that's attached to your vehicle, and surround-view cameras.
There are also towing hardware features available for both trucks that allow for gooseneck towing.
However, the Ram 2500 blows the Ford F-250 out of the water with plenty of towing technology features the F-250 can't compete with.
Trailer Camera Prep: Up to two cameras that can be placed on or within your trailer.
Center High-Mount Stop Light Camera: Offers extra visibility with dynamic grid lines.
Auto-Level Rear Air Suspension: Class-exclusive feature that includes a Bed Lowering Mode, bringing the rear suspension to its lowest point to easily hook up a trailer.
High-Tech Interior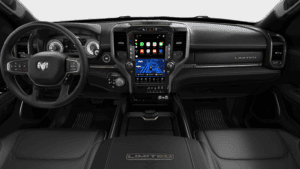 When your truck is also your office space, you want technology there to help you get it all done; from finding directions to the next job site or lunch stop to keeping you entertained along the way. Ford offers plenty of connectivity options from its 8-inch touchscreen display in the F-250.
Once again, however, the Ram 2500 offers more. This time, it's in the form of an available 12-inch touchscreen. This large screen has a portrait layout, so you can get a better view of the navigation map and more quickly scroll through menu options. The touchscreen also allows for split-screen capability, pinch-and-zoom technology, and physical controls for multiple features.
This means it's quicker, for instance, to find your favorite music in the Ram. Additionally, when you upgrade to the available Harman Kardon® premium audio system, you'll experience those tunes through high-quality surround sound thanks to 17 speakers thoughtfully placed throughout the cabin. Meanwhile, the B&O™ Premium Sound System by Bang & Olufsen available in the F-250 only comes with 10 speakers.
The Ram 2500 can pair your sound system with your smartphone to play your favorite songs and podcasts and take calls that will sound clearer ever before. Like the F-250, this truck comes standard with infotainment features like Apple CarPlay® and Android Auto™ to go along with wireless Bluetooth® connectivity.
Safety Features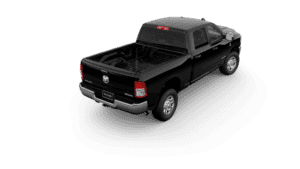 No matter where you are, it's important that your truck can keep you safe when danger strikes. The Ram 2500 and the Ford F-250 offer several incredibly helpful safety features that are designed to alert you when danger may be imminent and even avoid it.
Both vehicles are equipped with features such as Forward-Collision Warning with Active Braking, Adaptive Cruise Control, Blind Spot Monitoring, Lane Departure Warning, and Lane-Keep Assist. However, where the Ram 2500 stands out over the Ford F-250 is with its Enhanced Parking Technology and the Adaptive Forward Lighting System.
With Enhanced Parking Technology, you'll have sensors on the front and rear bumpers which will alert you if an object is near when you park, which makes it much easier to judge whether or not your truck will fit into a spot. The touchscreen in the Ram 2500 will show you what's around you as well, making for a seamless parking experience.
The Class-Exclusive Adaptive Forward Lighting System, featuring premium LED lighting, makes seeing at night easier than ever. The lights turn up to 15 degrees to enhance your lights at night. These are features that you can't get in the Ford F-250.
---
Test Drive the Ram 2500
As you can see, both trucks are well-equipped to handle any number of jobs. However, the Ram 2500 beats the Ford F-250 when it comes to gasoline engine power, maximum towing capacity, and high-tech infotainment and safety features.
Learn more about this highly capable truck and see it for yourself by visiting Dick's CJDR of Wilsonville. If you're in Wilsonville, Woodburn, or Portland, OR, come see us at our Ram dealership, give us a call, or go online to schedule a test drive!