Oil Change near Wilsonville OR

For the drivers around Wilsonville, keeping up with their oil changes is a major priority. That's because fresh, clean oil will help all your engine's parts run smoothly, improving your engine's performance, efficiency, and safety. Have we got your attention yet? Schedule service right now at our service center!
It's easy to set up at appointment with one of our Dick's CJDR of Wilsonville auto service experts.
Things to Do around Wilsonville Oregon
Another reason that drivers around Wilsonville love keeping up with their automotive service is that there's simply so much to do in the area that they hate trying to go without a car for any extended period of time! Between the World of Speed Motorsports Museum, Graham Oaks Nature Park, Wilsonville Memorial Park, and dozens of other indoor and outdoor activities, you'll never be at a loss for a fun time!
Our Oil Change Services

Our knowledgeable technicians are some of the best in Oregon. They have years, if not decades, of high-quality experience working with Chrysler, Dodge, Jeep, and Ram vehicles, as well as models from a bunch of other manufacturers. They know the specific demands of all different types of engines and all different types of motor oils, from full synthetic and synthetic blend to conventional and high mileage and beyond.
They'll work efficiently and effectively. Along with their technical skills, they ensure they treat every customer with the utmost respect and attention. Interested in scheduling an oil change? Check out the bottom of this page to see the ways that you can easily get in touch with us.
You can also hop into our Mopar® Express Lane for the fastest oil changes and maintenance in the area. You don't have to make an appointment, and they can additionally take care of other crucial automotive services: tire wear and pressure checks, air filter replacements, chassis lubes, battery repair, and so forth.
Our Service Waiting Area

At Dick's CJDR of Wilsonville, we're so focused on serving our customers that you'll even enjoy waiting for your appointment! With comfortable seats, a technology bar with desks and computers, and free coffee, bottled water, and snacks, what's normally seen as wasted time will become relaxing, productive, or both.
When should I schedule my appointment?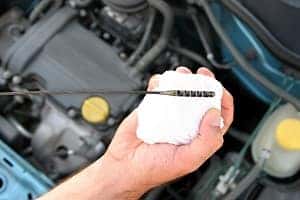 There are a couple of signs that you should keep an eye on, all of which will give you a better sense of when it's time to change your oil. Have you noticed any of these? If so, drop us a line as soon as possible:
Dashboard Warning Light: Give us a call if your dashboard's oil change indicator lights up.
Oil Dipstick: Open the hood, find the dipstick, remove it, and check it the old-fashioned way.
Oil Consistency: While you're checking the dipstick, look out for black or gritty engine oil.
Engine Volume: Also keep your ears open for knocking sounds while you're driving.
Additionally, make sure that you're aware of any smells that you experience in the cabin. For example, the smell of burning oil (or the sight of thick smoke coming out of the exhaust pipe) are both symptoms that you should heed. Finally, if you can't remember the last time you had an oil change, text us from your phone.
Schedule an Appointment Today!
Browse our ever-rotating library of Mopar® coupons to see if we're running any oil change specials today.
Then, give us a call on the phone, connect with us on our website, or stop by our service department. We look forward to serving you!