Oil Change Portland OR

When it comes to owning a car, there are few things more important than getting routine oil changes. This is the ticket to keeping your car healthy for years to come.
If you're due for an oil change near Portland, OR, then it's time to visit the service center at Dick's CJDR of Wilsonville. Our on-site maintenance bay and Mopar® Express Lane are here to serve Oregonians like you who need to make sure that their car is running on fresh, clean oil.
As a common service needed on your car, we at Dick's CJDR of Wilsonville (CDJR) know how important this simple yet essential service is. For an oil change near Portland, OR, we invite you to come to our service center and let our experts take care of your car.
Contact us to make your appointment or swing by our express service bay for same-day routine service with no appointment necessary.
---
When Do I Need an Oil Change?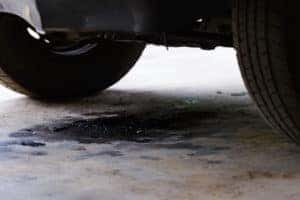 If it's been more than 10,000 miles or more than one year since your last oil change—or you don't remember when you last got an oil change—then chances are, yes, you're due for one. Watching your mileage is by far the best way to make sure that you get an oil change when you need it.
However, your vehicle will also provide you with signals when it's in need of fresh oil, like:
An oil smell inside the cabin
A knocking sound in the engine
Dark-colored or dirty oil
Performance issues and decrease in fuel efficiency
Keep in mind that these signs indicate that you're overdue for service. If you notice any of the signs we mentioned above, promptly contact your local Portland area dealership to have your oil changed.
Why Oil Changes Are So Important
One of your goals as a car owner is to keep your vehicle running smoothly. Oil changes help to ensure that.
An oil change is a maintenance item that can take just a few minutes to complete but can have an impact that lasts years when it comes to your vehicle's health. By changing the oil, you keep your engine clean and free from sludge, allowing the parts of your engine to work properly at all times and continue to power your travels wherever you go.
The process starts by draining the old oil from your vehicle. Our technicians take care of this, then change the oil filter and add new oil, all in a matter of minutes. This helps get you back on the road in no time and keep moving to where you want to go and all the stops you have to make.
An oil change is common every few months or at every 3,000 to 5,000 miles, depending on the usage of your vehicle, so you want to monitor how your vehicle is being used and when these milestones arrive. Keeping up with this service can make a huge impact.
If it is time for you to get an oil change, you can bring your vehicle to our trustworthy team and get back on your way soon.
Our Service Center: Oil Changes and Other Maintenance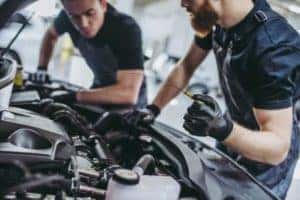 Here at our service center, it's about more than just oil changes for your vehicle. We can handle many tasks that help your vehicle stay in good health.
Our technicians can handle an oil change in just a few minutes, and also complete essential services like tire rotations, inspections, air and cabin filter replacements, and more in a timely manner.
In addition, if you notice anything functioning differently than usual, you can have our team examine it and make the necessary repairs. This is the best way to tackle any issues that can require advanced attention, such as parts of your engine or brakes. For any service you need, contact our service center and set up your next appointment.
When you're due for regular, routine maintenance—like an oil change—the on-site service center at our Portland area dealership is well-equipped for the job. We have a team of factory-trained and certified technicians who will provide your car with the top-quality care it deserves.
We perform a full range of services, including:
Oil changes
Oil filter changes
Tire rotations
Brake repairs
Transmission repair
Battery tests
If you ever have any questions about your vehicle's oil change needs, simply give us a call. One of our experts will be happy to provide our maintenance schedule recommendations. Plus, we use genuine Mopar® parts, like oil filters, to ensure that we keep your vehicle built as closely to factory specifications as possible.
If you're due for service, check out our website for current service specials, or just ask us! Go ahead and make your appointment now or visit us at our Mopar® Express Lane.
---
Schedule Your Next Oil Change Today
Are you in need of an oil change? Get your oil change completed by technicians you trust and get back on the road in no time. Here at Dick's CJDR of Wilsonville, we can provide this service for you successfully and efficiently, all with the goal of keeping your vehicle on the road.
If you want to get an oil change near Portland, Oregon, our dealership is the place to go, so come and see us or schedule your appointment today.