Local Spotlight: Sherwood Historical Society
---
Does local history fascinate you? Then you might want to stop by the Sherwood Historical Society's Heritage Center to visit their two main attractions: Smock House and Morback House.These relics of a bygone day have been maintained for many years to educate the local community on those who came before them.
---
Smock House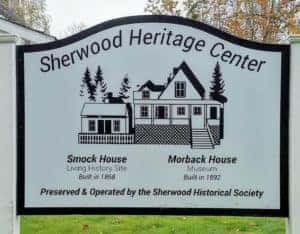 When someone decides to buy a new home, you might hear them say that they're "moving house." They certainly don't mean they're literally moving their entire home, but that's exactly what happened to Smock House in 2003!
Smock House was owned by the founder of Sherwood, James Christopher Smock and dates back to 1868.
When the building fell into disarray, a group of dedicated volunteers removed Smock House from its foundation on First Street. The house was then placed on an oversized trailer and delivered to its new location on Park Street, where it has since received some nice upgrades.
These days, it has an inviting appearance as a living historical site, and now sports a wooden porch in the front, as well as a ramp in the back for easier accessibility. A chair and bench flank its front door to invite passersby to discover the history still very much alive in their town.
---
Morback House
Smock House was moved right next door to Morback House, which functions as the Sherwood Heritage Museum. It's been around since 1892 and was owned and named after Joseph Edward Morback.
It has a rich history of other functions, such as city hall, the library, and even the police station!
Visitors are welcome to take a tour and see plenty of vintage furniture, instruments, photographs, and knick knacks that were once a part of someone's life.
Although it isn't possible to know the whole story of what life was like back then, this museum gives visitors the freedom to imagine it.
---
Pioneer Days
The Sherwood Historical Society values engagement with the local community. To inspire the next generation of historians, the society invites local schoolchildren to their annual Pioneer Days.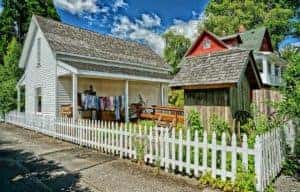 Volunteers dress in traditional pioneer clothing and show the students around the museum; they'll even get to see what an old school room used to look like!
Different stations are set up on the premises for the students to learn more about what life was like and how their ancestors survived. It's truly a fun way to bring the classroom to life!
Learn Some Local History Today!
We all wouldn't be where we are today without the work of our ancestors. Learning about their lives is a great way to honor their legacy.
The two houses at the Sherwood Heritage Center present a neat opportunity to see these lives up close, and you might even learn something new about your hometown.
If you're interested in this type of history, visit the Sherwood Historical Society today! To see some photos of the Smock and Morback Houses or to learn more about upcoming events, check out their Facebook page.