Battery Service Wilsonville OR

Are you due for battery service near Wilsonville, OR? Then it's time to visit the service center at Dick's CJDR of Wilsonville. With top-notch service bays, state-of-the-art equipment, factory-certified technicians, and genuine Mopar® OEM parts, we strive to provide a high quality of service for all our customers.
Read on to learn a little more about your car's battery repair needs. When you're ready to schedule service, use our convenient online scheduling portal or contact us directly to make an appointment.
Battery Service Interval for Wilsonville Drivers
It's a good rule of thumb to have your battery inspected every 7,500-10,000 miles. Our technicians will clean the terminal at this time, too. This is also the visit where you'll have your oil changed and your braking system inspected. Never go more than 10,000 miles or one year (whichever comes first) without getting this service.
Keep in mind that you may need to schedule this visit more often depending on how you drive:
Light, everyday driving: 7,500-10,000 miles
Moderate conditions including light towing: 5,000-8,000 miles
Extreme conditions including off-roading or heavy towing: 3,000-5,000 miles
You may also need to have a battery replacement every three to five years. Scheduling regular service will help you determine when the time is right to do so.
Signs You Need a Battery Repair or Replacement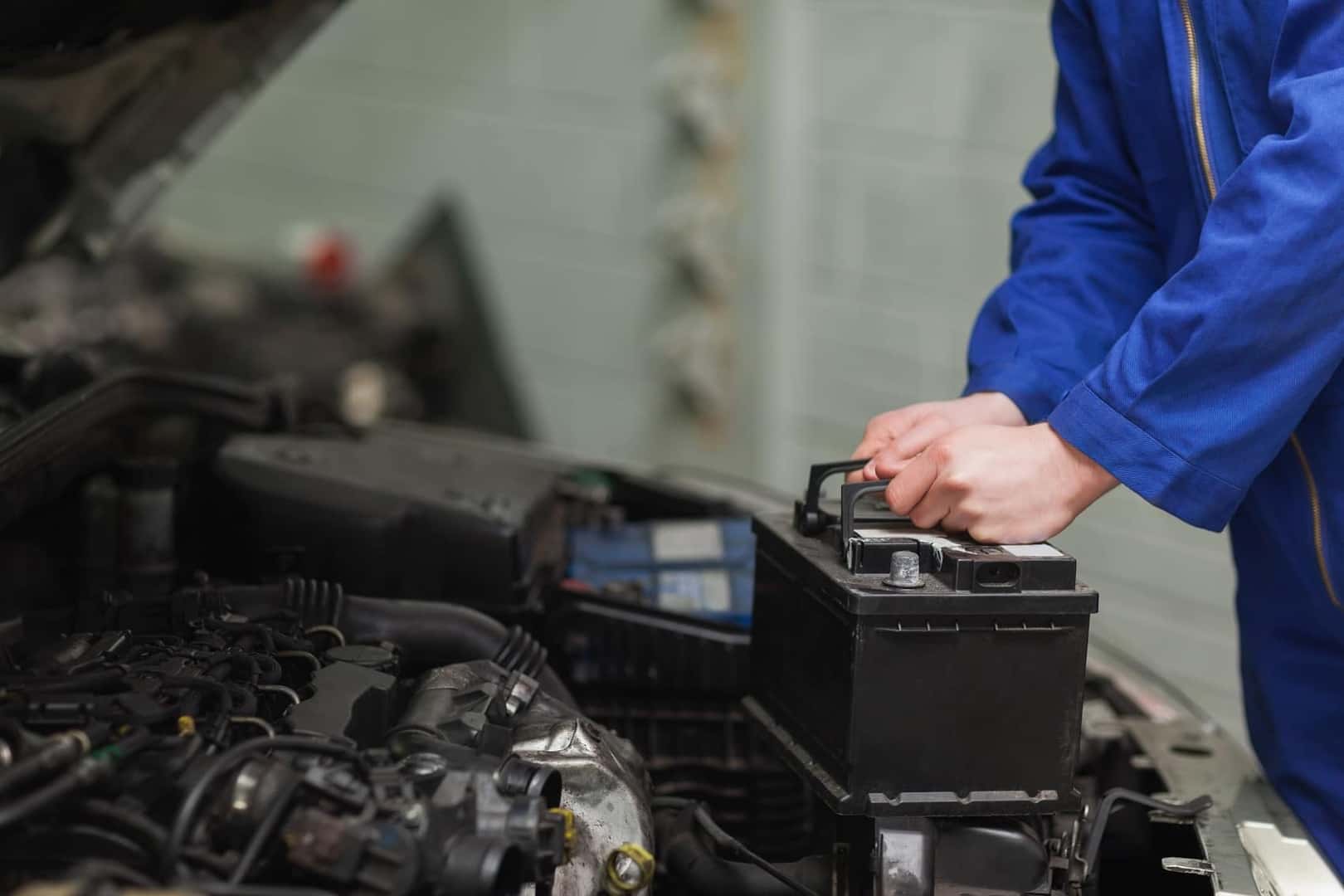 As we mentioned, you should schedule battery service roughly every 7,500 miles, and you'll probably need a battery replacement every three to five years. Scheduling regular visits to your local dealership's service center is the best way to know what your battery needs and when. However, your car will also provide you with a few clues that indicate your battery is overdue for repair, like:
Slow engine crank on startup
Corrosion buildup or battery swelling
Electrical issues (dim headlights, malfunctioning radio, etc.)
An eggy smell under the hood
Watch your dashboard, too. If you see a red light that looks like a battery, then there may be a possible charging system malfunction. Turn off all electrical equipment, like the radio and A/C, and contact your nearest service center for assistance. Try to avoid driving until you've had your battery checked.
Our Service Center and Parts Department near Wilsonville

Whether you've reached an important maintenance mile-marker, or you've noticed the battery symbol on your dashboard, know that the team at our service center is here to help. We work with Wilsonville area drivers on a daily basis, so we have the experience to pinpoint the service your battery needs and get you back on the road as efficiently as possible.
In addition to our knowledgeable team of factory-trained technicians, we have a well-stocked parts department where we keep a full inventory of genuine Mopar® original equipment manufacturer (OEM) parts. So, if you need a battery replacement, you can be sure that we'll have the right parts on-hand. Or, we'll place a special order to get you what you need and expertly install it for you when it comes in.
We can also provide you with advice on how to protect your battery so that you don't need to bring it in for service as often. Usually, simple behavior changes can make a big difference in how often you need battery repairs, like:
Avoiding short trips to let your battery fully charge
Turning off electrical equipment like headlights and A/C when not in use
Making sure your battery is secure in the mounting bracket
Storing your car in a cool, climate-controlled garage during hot weather
We'll gladly chat with you more about smart driving techniques if you're interested. Just give us a call!
Schedule Battery Service near Wilsonville OR
If you're in need of battery service near Wilsonville, OR, then contact the team at Dick's CJDR of Wilsonville. We're here and ready to help keep your battery charged up and ready to ride.
Contact us to schedule service today!